What is a Padoq (or Group)?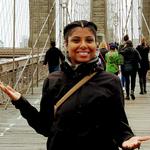 Updated by Kate Santo
Padoq apps are made of groups (sometimes called padoqs). These can look very different depending on how they are set up. The Padoq platform allows for a lot of customisation, so 2 groups might look as different as these examples: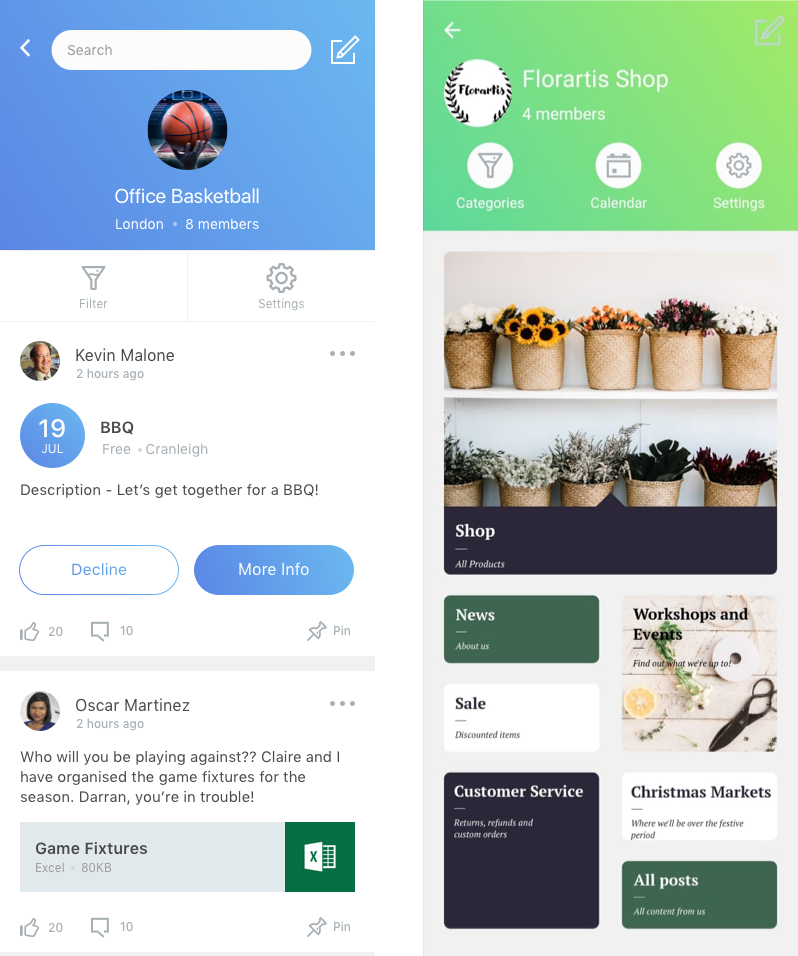 Groups, as you can see, can be personalised to help you connect with your audience. And this article explains exactly how that works.
Main features of a group
A group comes to life with activity. This usually looks like users posting things to the group, replying to other users' posts, sharing information, documents and planning things together.
Let's explore the main features you'll find in a group.
Tags
Tags are a great way to organise posts in a group. Imagine you have a group to communicate with the tenants in the building you manage. There might be a certain type of post that comes up often: Perhaps lost items? Or updates in reception hours? Or updates in covid-19 restrictions? You might want to have a way to find and collect those posts easily. Tags do exactly that.
Posts with the same tag come up when you (or any member of the group) search for that tag. And you can create as many tags as you want. Let your users know about your tags, so they can actually use them by adding #tag to their posts.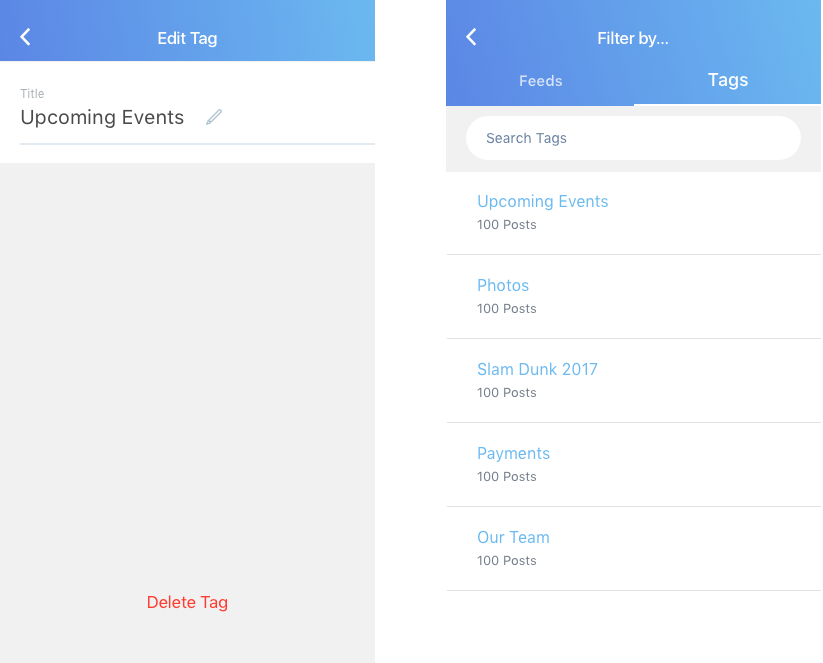 Tiles
When a user opens a group, they might typically see a menu at the top (Categories, Calendar, Settings...) and then a feed of posts underneath. However, there is another interesting way of organising the content of your group: tiles.
Tiles are square or rectangular sections that take up the space where the feed would normally be. And each tile can do one of many actions: it can display the standard feed of posts, it can take the user to a form, it can bring up a screen for members to invite friends to the group, it can launch the group's calendar if you often have events happening... And a lot more.
Tiles, like groups, are highly customisable. They can have background images, different colours, sizes, words... And you can make your tiles look exactly how you like them via the web version of the app. Here's how:
Open the app on your computer's browser
At the top of the page, go to Manage > Super Admin > Select a group > Open the Tile menu tab
Create a menu

Your users can't see this menu, but it's good to give it a name that helps you identify it. Why? If you are an admin for other groups, you might want to use the same menu in several groups. So the name will make it a little easier to find
The grid size can go up to 4. This means that there will be a maximum of 4 tiles allowed per row in your menu. You can change this at any time, so feel free to play with different grid sizes

Create tiles

All of your tiles will "live" inside the menu you create in the previous step
There will be a preview of each tile you create on the right-hand side of the screen. So you can see how they will look on your users phone
Everything is easily editable, so go ahead and play with different colours, sizes, words... and actions
Actions are at the bottom of each tile you create. Here's where you choose what you'd like each tile to do. Some actions don't need any further details apart from choosing the action itself. But other actions need further details. For example:

The PADOQ_FEED action shows your user the feed of posts. You can add details like tags (to only show posts under a specific tag), but this is not compulsory. So you can save the tile just like that
The URI action, however, takes the user to an external website. It needs you to specify the website you want your user to be taken to. It won't let you save the tile without adding that in

When you have a few tiles ready, you can move them up or down by clicking and dragging them by the 3 little lines next to Edit
And, if you open the group on your phone, you can see your tiles in action straightaway. Just remember, on your phone, to come out of the group and back in so it picks up the changes you make on your computer
Here is a set of tiles showing different designs and configurations
Group menu items
There is a main menu that all groups have - apart from the tiles we've just talked about. This main menu sits at the top of a group. And it's also highly customisable. There are two types of settings in this menu: settings that you can customise yourself via the web version of the app and settings that only someone at Padoq can customise for you.
Settings in the web app
In the web app, head to Manage > Super Admin > select a group > open the Settings tab
On the right-hand side of the screen, you'll see Padoq menu display options followed by a list of options
Check and uncheck what you need. Each of these options will change the appearance of that main menu in different ways. For example:

If you select Hide menu, the menu at the top of your group (where categories, calendar and settings live) will be hidden
If you select Hide image (avatar) and Hide member count, both of those things will dissappear

Scroll to the bottom of the page and click Save
Settings done by Padoq
There are other settings, like forms, that are a little bit more complex and that need some work from someone at Padoq to appear in your group. Here are two examples.
Utilities

If you have a group to communicate with tenants in a building you manage, you might set up a way for them to report issues in their flats (a broken appliance, a leak in their bathroom). This is done through a form. You can create a form yourself, but someone at Padoq need to set things up for the form to appear in the main menu.

Find out more about forms in our guide

.
Book a room

If you're the admin for a group where people can book rooms (in a shared living space, for example), you can give users direct access to the booking system by placing a button in the main menu. This is another feature that someone at Padoq needs to set up for you.
Calendar
Another great feature of a group is its calendar. This is available to every member of the group, so if you organise events regularly, this is a very handy tool. A good example are groups built to organise sports competitions (the office football league, the cycling competition with your friends).
What's even better about this is that, when a user says they are attending an event that has been posted in your group, this event is also added to the user's personal calendar in the app. In their personal calendar, users can see every event they are attending, from every group they are a part of.
Posts
There are different types of posts that your group can handle. Each of them offer unique possibilities and allow you to do specific, useful things. Here they are.
Basic post

This is the most standard type of post. It usually looks like a member of your group posting something to the general feed. Posts with images or videos are also basic posts. When the user pastes a video link, the app will pick up its preview image and text and display it in the post. So it looks great. Like this:

Vote or poll

This is a post that your users can create too. It's a post that allows other users to vote for an option:

Survey

This type of post allows you to ask questions to your users. It's made up of questions and text fields for users to type in their answers. You can set things up so your users can also create surveys (and votes or events too). Here's how:

On your mobile, open your group
Then head to Settings > Enable Post Types (or Member Permitted Posts, if you're on an Android phone)
Select the types of posts you'd like your users to create

Event

This is a type of post that only the admin of the group can create -unless you have changed the settings in your group to allow users to create event posts. The format for this post includes two unique things:

Event posts are added to the group's calendar, so all members can see it
They allow users to say if they are attending the event or not. If they are, the event also goes to the user's calendar
Chats (internal messaging)
Chats are a great way for the members of your group (and yourself) to communicate in a more private way, away from the main feed.
That's great, but I can't see chats in my group? 🤔
Users can access their chats by opening the group's member list. They can do this either by tapping the member count at the top or (if the member count is hidden) by tapping Settings > Member List.
Users can also access their chats from the main menu of the app. They might have chats with members of the different groups they are members of. So having all chats in one place just makes it easier to switch between chats.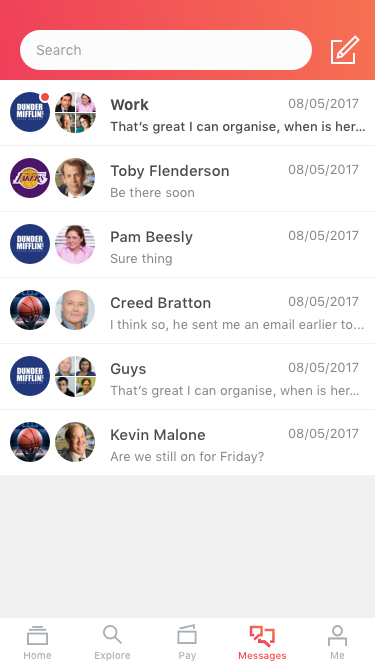 Documents
You might have a group where it's important to share documents with members. For example, you might be the admin for a group where tenants in a building communicate with you and with each other. You might want to upload documents related to the shared spaces of the building for all users to read and accept: health and safety rules, the bike storage disclaimer or perhaps gym rules and opening times.
You can add documents to your group that all members can access and download easily. If you have tiles, you can create a tile with all your documents. So when members tap that tile, they will see a list of documents. If you don't have tiles, your users can access documents via the menu at the top (Settings > View documents).
Required info collection
You might have a group where it's important to ask people some questions before they become members. For example, if you manage a group for your employees, you might need them to tell you which department they belong to, or who their line manager is, before they join. If your group is for tenants in a building, you might want to ask them which flat they live in when they join, as this will help you with parcel deliveries or sorting out maintenance.
You can set up any questions you need people to answer when they request to join your group. And you can make each question compulsory or optional. It's up to you.
Here's how to do it:
In the web app, head to Padoqs > My Padoqs > Switch the option at the top to Admin > Select one of your groups > Open the tab called Settings > On the left-hand side, select Required Information
You can add 2 types of questions for your members:

Text field, where you ask a question and the user types their answer
Multiple choice, where you ask a question and provide a list of possible answers. The user then selects the answer or answers they want

Click Save Changes when you're done
You can edit your existing questions at any time in the same page. If you edit your existing questions, add more questions or simply want your users to update their answers, you can select the Ask for update option at the bottom of this page. So the next time a user opens your group, they will be presented with the latest version of your questions
Finally, you can export a document with your users' answers to your questions. At the top of this page, there is a button called Export Required Information

When you click it, it will ask you for your password (to confirm you're authorised to view this information). And then...
It will email you an Excel file with the information