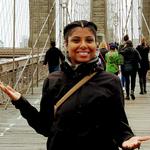 Updated by Kate Santo
If you are the admin of a group, you can easily manage members and their roles either from your phone or a computer. Find out more in this guide.
The admin role
As an admin, you can make other members admins too.
Admins have increased control within a group. They have additional functionality such as making different types of post like surveys and being able to boost their posts. They can also delete other members' posts and remove members from the group.
When joining a group, every user becomes a member. As an admin of the group, you can choose to make some of your members admins too. Only an admin has the power to do so 🔌. They also have the power to take away the admin role.
How to give a member the admin role on mobile
Go to your group and select Settings then Member List. Alternatively, you can select the number of members underneath the name of your group.
Find the member you would like to make an admin and click or tap on them to go to their profile
Select More and then from there you can Make Admin
How to give a member the admin role on the web platform:
On the web, go to Manage > Super Admin and select your group
Open the Members tab
Find the person you want to make an admin and click on them
Under the Role header, tick Admin then Submit
Inviting members
Go to your group and select Settings
Click on Invite Members under the Members heading
Copy the link or directly send the link via your installed apps
Inviting members via the Super Admin page
On the web, go to Manage > Super Admin and select your group
Open the Members tab
Click Invite Member and type in their email address
This will then send them an email with a link to join the group
Removing members
Go to your group and select Settings then Member List. Alternatively, you can select the number of members underneath the name of your group.
Find the member you would like to remove and click or tap on them to go to their profile
Remove the member:

If you're on mobile, select More and then from there you can Remove from Padoq
If you're on the web platform, select Remove below the member's details
Removing members via the Super Admin page
On the web, go to Manage > Super Admin and select your group
Open the Members tab
Find the person you want to remove and click on them
Under the Status header, select Disabled and then Submit